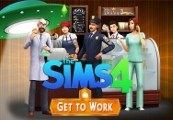 Product beschrijving

You rule the workplace with The Sims 4 Get to Work! Actively control your Sims while they're at work and determine whether your Sims are headed towards the big promotion or becoming the workplace menace. Jump to the rescue and save countless lives as a Doctor, torment your neighbors with mischievous inventions as a Scientist, or investigate crime scenes and crack the big cases as a Detective. If you'd rather be your own boss, create, customize, and manage your own retail businesses to become a Simoleonaire! You decide how your Sims get to work.

Product activatie handleiding

Go to: http://www.origin.com/us/about Click "Download Origin" (from the upper left corner) Login into downloaded application Install and start application, login with your Account name and Password (create one here: http://store.origin.com/ if you don't have). Redeem Product Code From the "Origin" drop-down menu (upper right corner) choose "Redeem Product Code...", enter your code and click "Next". Download your Game After successful code verification go to the "MY GAMES" tab and start downloading.
Meer producten in deze categorie