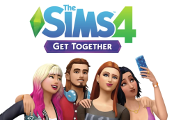 Product beschrijving

Welcome to the beautiful world of Windenburg where there's always something fun to do with other Sims! Explore scenic neighborhoods and lively hotspots, get together for exciting group activities, and join clubs to meet new Sims and live it up! In The Sims 4 Get Together, there's always a great reason to get together.

Product activatie handleiding

Go to: http://www.origin.com/us/about Click "Download Origin" (from the upper left corner) Login into downloaded application Install and start application, login with your Account name and Password (create one here: http://store.origin.com/ if you don't have). Redeem Product Code From the "Origin" drop-down menu (upper right corner) choose "Redeem Product Code...", enter your code and click "Next". Download your Game After successful code verification go to the "MY GAMES" tab and start downloading.
Meer producten in deze categorie